Learn about the new features in Microsoft's latest operating system
Windows 10 is here! Windows 10 is available for a low administrative fee through the TechSoup Microsoft donation program. If your nongovernmental organization (NGO) or library needs to upgrade its operating systems, this article describes some of the most important new features in Windows 10.
For end users, Windows 10 introduces a new Start menu, web browser, personal digital assistant, and more. For IT administrators, the latest version of Windows includes features such as support for Azure Active Directory and Windows Update for Business.
Start Menu
The Start menu has returned to Windows. Windows 8 users know that the Start menu was replaced in that version by a collection of tiled apps that are known as the Start screen.
The new Start menu in Windows 10 combines the features of the Start screen with the classic Start menu from Windows. The Start menu items that you use the most are listed in one column. Right next to that column is a place where you can pin your favorite app tiles.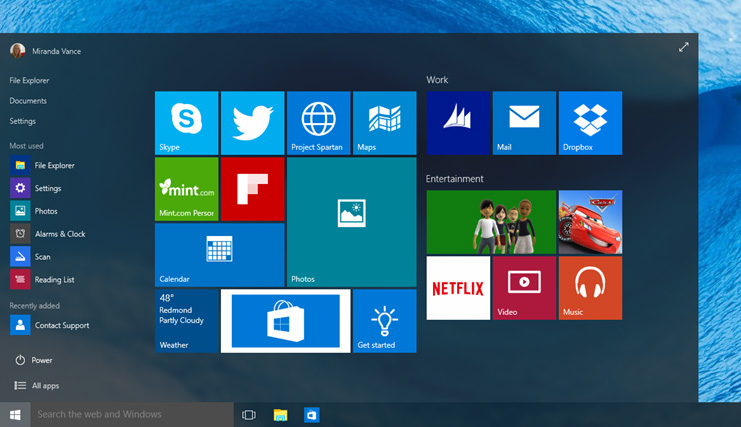 The new Start menu in Windows 10
Microsoft Edge
Windows 10 includes a new web browser that's called Microsoft Edge. Internet Explorer is still included, but Edge is the default browser for most tasks.
What makes Edge unique is its save-for-later and markup features. You can save a page to read later offline in your Reading List. This feature functions similarly to the way Instapaper and other apps enable you to read web content offline.
The markup features allow you to write, draw, highlight, or type directly on a web page. Then you can save the page that you have annotated to OneNote or share it with your friends.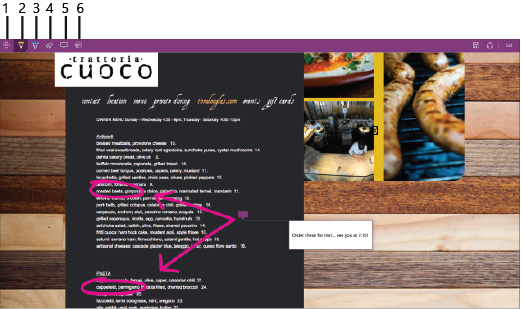 Microsoft Edge markup tools
Multiple Desktops
Windows 10 supports multiple desktops, a function that's similar to the "Spaces" feature in Mac OS X. This feature means that you can have one desktop that's filled with spreadsheets, and another desktop that shows information about a new fundraising project. You can even have a third desktop that showcases photos of your NGO's work and switch between the three easily.
You can also move applications from one desktop to another; you drag and drop them. Or you can create a new desktop (to do so, drag an application to the New desktop button).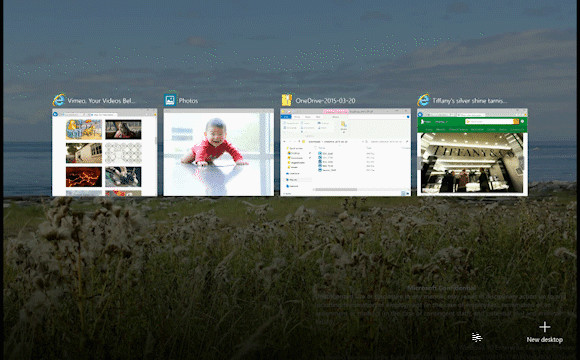 Demonstration of multiple desktops
Snap
Windows 10 has several Snap features that enable you to quickly resize application windows so you can be more productive. In Windows 7 or 8, you could drag a window to the left or right side of the desktop; then, you could "snap" (attach) the window to that half of the screen.
You can snap an application to half of the screen in Windows 10. Then, the Snap Assist feature brings up a carousel of thumbnails of other applications that you have open. You can then choose one application to fill the portion of the screen that remains.
In Windows 7 and 8, you could only snap application windows to the left- or right-hand side of the screen. In Windows 10, the Corner Snap feature enables you to snap applications to all four corners.
Another useful feature is Snap Fill. You probably won't always want to snap your windows into two equal halves or four equal quarters. With Snap Fill, you can resize a window and then snap a second window adjacent to it. The second window will fill the screen space that remains.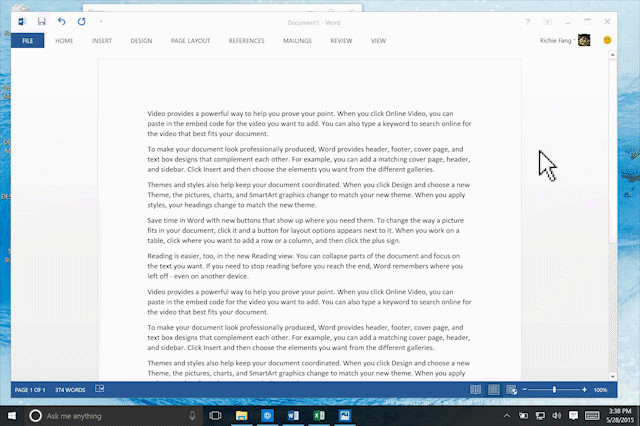 Snap Assist
Cortana
Like Apple's Siri, Cortana is a personal digital assistant that is voice-controlled. It's integrated into all of Windows 10.
You can tell Cortana to search for things on the Internet, find files on your computer, check the weather, and complete other tasks. You can also turn it off if you're the type who works better alone.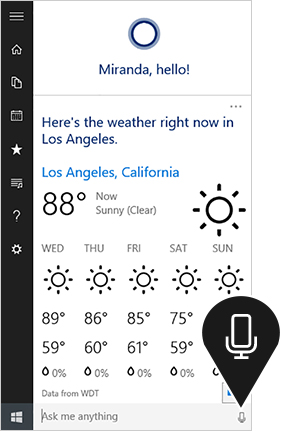 Image of Cortana in Windows 10
Battery Saver
This feature (which originated in Windows Phone) is now part of Windows 10. You can turn on Battery Saver for your notebook or tablet to conserve power after your battery decreases to a certain percentage. It's set to 20 percent by default, but you can change it to whatever you want.
Windows sometimes shuts down certain background processes in order to save battery power. Which processes does it shut down? Windows allows you to specify which tasks should always run, even when you shift to Battery Saver. So you can make sure that you'll always receive email updates, for instance.
Azure Active Directory Support
Azure Active Directory is Microsoft's online service for Active Directory (AD). Windows 10 support for this feature means that it's possible for an organization to completely replace on-premises servers. How would this work? The organization would deploy Office 365 (which nonprofits can get for free) in combination with Azure AD.
An entirely Internet-based solution won't work for every organization, so you can also get the same functionality and keep your servers with Azure AD Connect.
One benefit of Azure AD is "single sign-on." This feature enables users to log in to Windows 10 and immediately access any online applications that are AD-compatible that your IT department has configured. These applications could include Office 365, Box, Citrix ShareFile or GoToMeeting, and Salesforce.com. For IT people, it's much simpler to deploy any of these online services for users.
You get access to a free edition of Azure AD with Office 365, or you can purchase additional features in higher editions.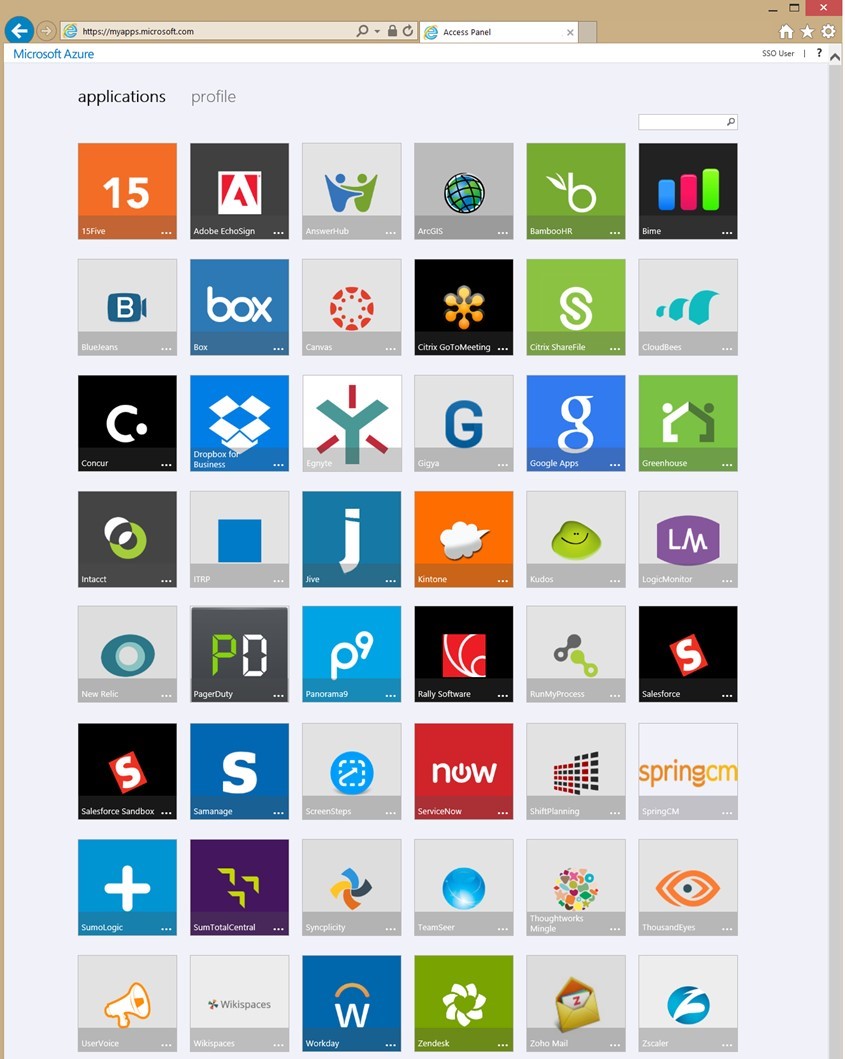 Some of the apps that can integrate with Azure Active Directory
Windows Update for Business
Windows Update for Business is a free service from Microsoft for Windows 10 Pro and Enterprise devices. It gives IT departments more ways to control how to deliver security and feature updates to end users.
Windows Update for Business enables IT administrators to create distribution rings and maintenance windows. Then, they can create policies about which users or devices receive updates and when they will receive them. They can also configure updates to be delivered peer-to-peer rather than over the Internet if bandwidth is an issue.
You may already use System Center Configuration Manager or Windows Server Update Services to provide those services. If so, you can continue to use those along with Windows Update for Business. The benefit with Windows Update for Business is that updates come to the clients from Microsoft's servers instead of from your on-premises servers.
Enterprise Data Protection
New security features in Windows 10 Enterprise both prevent data loss and encrypt your computer files.
Data-loss prevention distinguishes between your organization's data and a user's personal data and protects the organizational data through encryption. The software encrypts your organization's apps, data, email, website content, and other sensitive information on the device. It also helps users determine if new documents are personal or organizational and should be encrypted.
IT administrators can also create policies to further protect corporate data; they can make sure it can't be transferred externally.
Windows Hello and Passport
Windows Hello is a new feature that enables you to unlock your device with your fingerprint, your face, or the iris of your eye. If you use your face or iris, a recent device with a 3D camera is required. Microsoft says it can guarantee enterprise-grade security with any of these methods, which it says are more secure than traditional passwords.
After it unlocks the device, Passport authenticates you and allows you to access websites and other services. You don't have to enter a password. If you're worried that Microsoft will have your fingerprints, pupils, or face on their servers, you don't need to worry. Microsoft says your biometric information is only stored locally on your device in order to unlock it and authenticate you with Passport.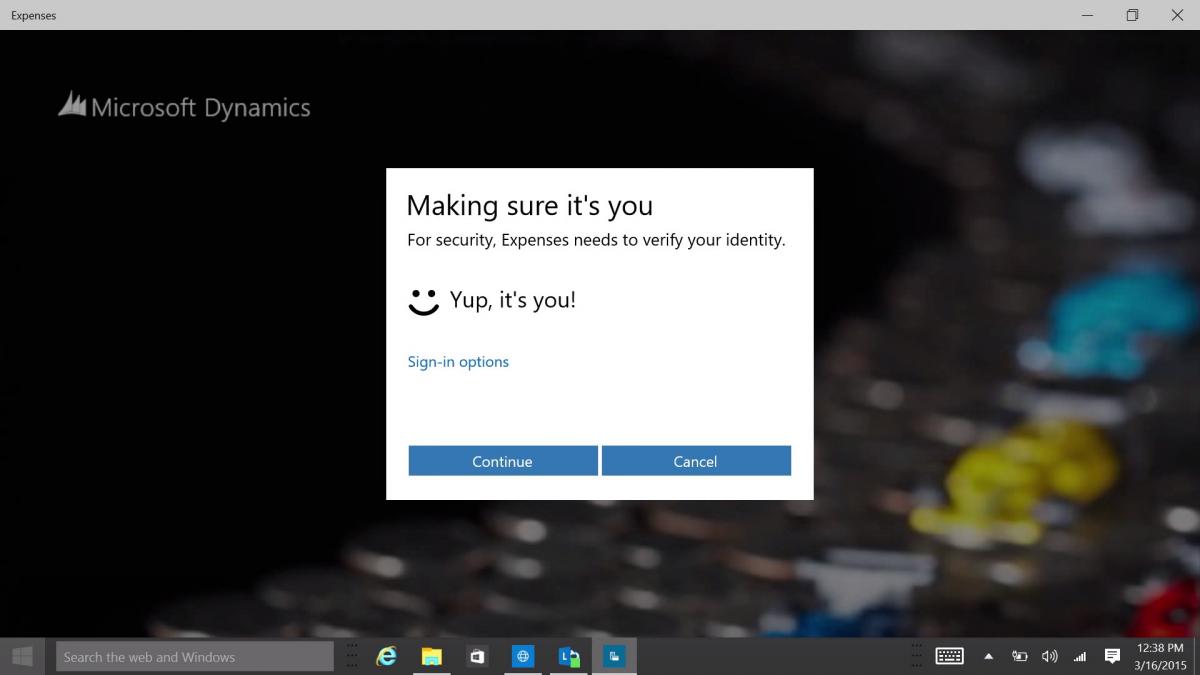 Authentication with Windows Passport
Images: Microsoft
This work is published under a Creative Commons Attribution-NonCommercial-NoDerivs 4.0 International License.